I can't believe I'm at the 100th post so fast! It's about to be 101 posts after I do the FFF of today. Time really does fly when you're having fun! I know all the veteran bloggers are sitting back like, "Ha! What a newbie blogger, wait til you have five times more posts!" I'm not focusing on that though. For right now I'm really enjoying blogging about what ever
I
find interesting at this particular time. I hope to continue to do this, and keep it illuminated with what's going on with me and my views.
I'm looking forward to these later on as part of my blog mini milestone celebration!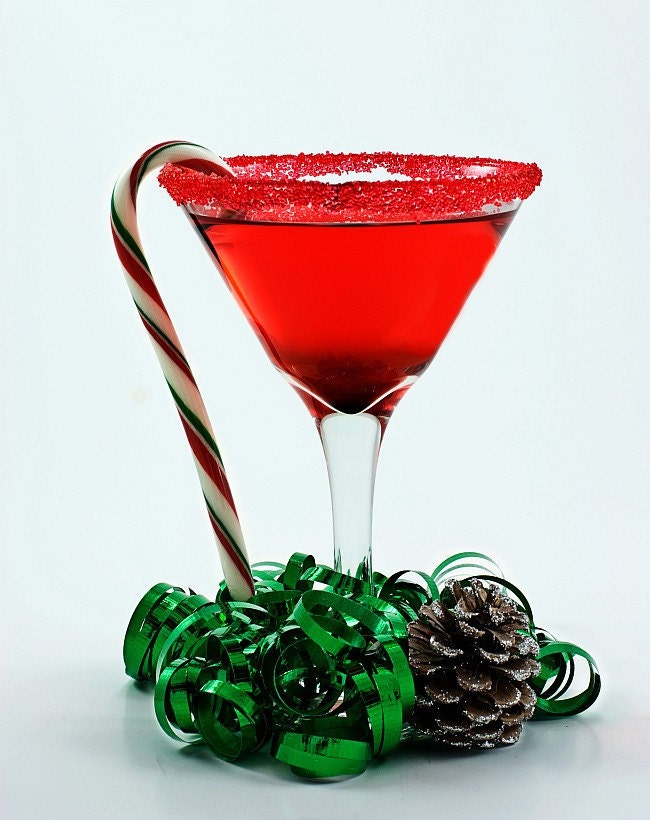 Recipe courtesy of bartender Charles Corpion
featured on Martha Stewart show.
Photo via Etsy.
Candy Cane Cocktail
Ingredients:
1 Candy cane, crushed for garnish on rim
2 oz. Strawberry vodka
4 dashes White Creme de Menthe
2 1/2 oz. Cranberry juice
Ice cubes
Serves 1
Directions:
Place crushed candy canes on a small plate or saucer. Wet the outside rim of a chilled martini glass with water. Holding the glass by the stem, rotate the rim to coat with candy.
In a cocktail shaker, combine vodka, creme de menthe, cranberry juice, and ice; shake until well combined. Strain into prepared glass; serve immediately.
Cocktail Hints
from the
Ultra-Lounge: Christmas Cocktails 2
:
Cocktails are usually served as appetizers or aperitifs, before a meal. Such cocktails should therefore be tart or "dry" to stimulate appetite. Being mostly liquor with only a small part of flavoring or sweetening, such cocktails are of course more potent. There
are
times when sweeter cocktails are suitable: when your guests are not regular drinkers (me) there should be more emphasis on fruit juices and sweetening. Any cocktail recipe can be modified to suit your taste and that of your guests. Sophisticated drinkers, as suggested above, like a lot of liquor and only a touch of flavoring; unsophisticated drinkers (again me) the other way around. Most cocktails are at their best ice-cold; they should be shaken or stirred vigorously with ice-cubes (cracked or shaved ice is even better) and served promptly in thin, clean, stemmed glasses. Chilled glasses are an added refinement. Cocktails like Martinis and Manhattans which contain only liquors, may be stirred vigorously with a rod or long spoon. Cocktails which contain fruit juices or eggs should be shaken in a cocktail shaker. Vodka may be substituted for gin in any recipe. Cocktails should
not
be made in advance if you can help yourself. If all your ingredients are lined up beforehand, the actual making is a very quick -- and pleasantly social -- process.
Here's some drink recipes from
Ultra-Lounge: Best of Christmas Cocktails.
North Pole Nog
Ingredients:
1 qt. Chilled eggnog
5 oz. Brandy
4 oz. Dark rum
3 oz. Dark Creme de Cacao
1 whole nutmeg (or dashes of already ground nutmeg if you have it available)
Directions:
Whisk together the eggnog, brandy, rum, and creme de cacao in a large punch bowl.
Add ice.
Grate a little nutmeg over the top of each drink when serving.
If you want to serve individually, not in a punch bowl:
Mix ingredients together over ice in a glass.
Pour into a shaker and give one brisk shake.
Pour into the glassware you will be serving guests with.
Makes 8 (6oz.) cups.
Mistletoe Martini
Ingredients:
1 1/4 fl. oz. (31 ml) Gin
1/4 fl. oz. (6 ml) Dry Vermouth
1/4 teaspoon(s) Peppermint Schnapps
Cracked ice
Candy cane garnish
Directions:
Half-fill a cocktail shaker with the cracked ice.
pour the gin, dry vermouth and the peppermint schnapps. Shake well.
Strain the mixture into chilled Martini glass(es).
Serve garnished with a candy cane. See first drink recipe at top of page.