The Lady getting all of the attention is big band singer Marva Louis. Boxing champion Joe Louis was her husband, twice! The men in the photo are some of 2,000 recruits at the U.S. Naval Training Station, Great Lakes, Illinois. They all were entertained by her singing in a drill hall. It's sad that African Americans fought for America only to come back home as second class citizens still.
The one thing I've noticed in most of these "popular" blogs from vintage admirers is the lack of acknowledgement for African Americans or people of color in general. It's like people of color didn't even exist. The past for African Americans isn't all milk and honey, but it certainly can't be ignored. I refuse to not learn more about my roots, which is really EVERYONE history. To just skip over any historical events or not include any images reflecting people of color, whether it's on these retro blogs or generally and genuinely in your life for whatever reasons is just.. plain ignorant. We can't change the past or sugar-coat actual events, but we can change our future and we (African Americans) sure are still doing it! I am deeply humbled and have respect for the people who came before me. They went through way more than I ever had to go through in my whole lifetime! Now because of them, I have this lifestyle in today's world. So with pride, not shame, I can truly say I am an not so secret admirer of my ancestors.
Marva Louis (1915-2000) accompanied by sailors.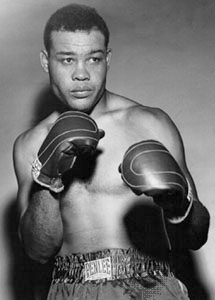 Champion boxer Joe Louis (1914-1981)